Finding the perfect organization to join us on campus as a new "roommate" was a top priority for executive director Chris Runkle last spring. 
Manos House, under his leadership, was looking for a mutually beneficial relationship. We had unused space to offer – and keeping up with our dedication to offering alternative learning and experiences to our clients, we looked for an organization that could enrich the rehabilitation journey for the young men in our care for substance use disorder.
We found what we hoped for with Lancaster Art Room, owned and operated by Beth Harrison, an accomplished art educator with more than 30 years of experience – including degrees in Fine Art, Art History, and a Master's in Education.
With Lancaster Art Room on-site, Manos House has opened up an entire new area of therapeutic programming for our clients.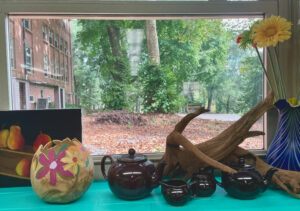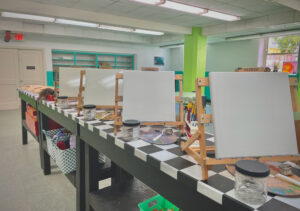 It didn't take long, says Beth, for her to become invested not just in the success of the Art Room – but of the young men residing at Manos House and our Supervised Independent Living program, too.
This past summer, Beth created a summer art program for our clients, in addition to continuing her classes for the public – such as various camps for younger children (homeschooling collectives are big fans!) and a hand pottery class for adults. 
One of the first projects for Manos clients was learning the history behind various cultures that count mask-making among their traditions, and making their own papier-mâché masks.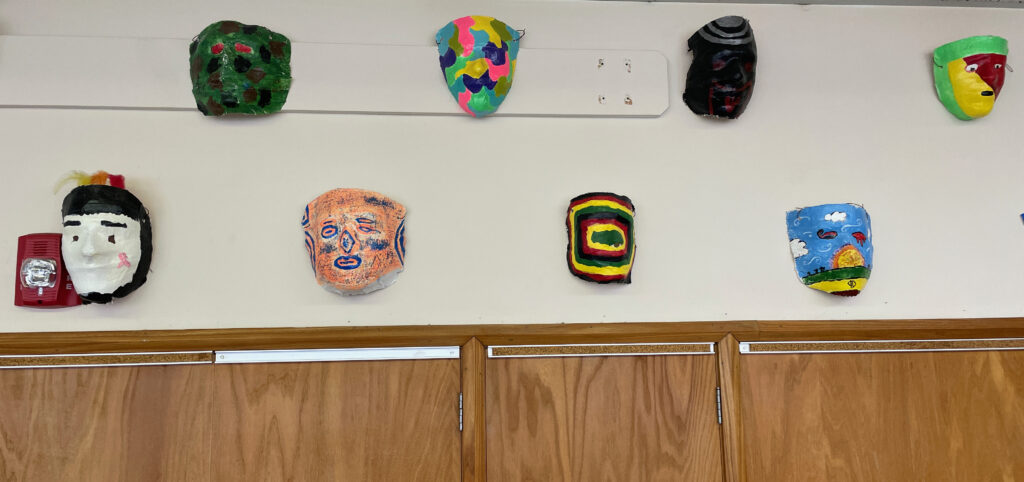 Manos House clients are loving it –  they say Beth's encouragement, along with the personal insights that creating art helps to stir up within, are key factors in building their self-worth and confidence.
This doesn't come as a surprise to Beth, who says she's honored to be able to teach these young men creative skills – skills that are actually highly applicable to a number of other disciplines and vocations, which may come as a surprise to some. 
"Teaching them how to talk about art is one of the skills I help them develop," says Beth. "It's teaching them how to present something, a widely transferrable skill."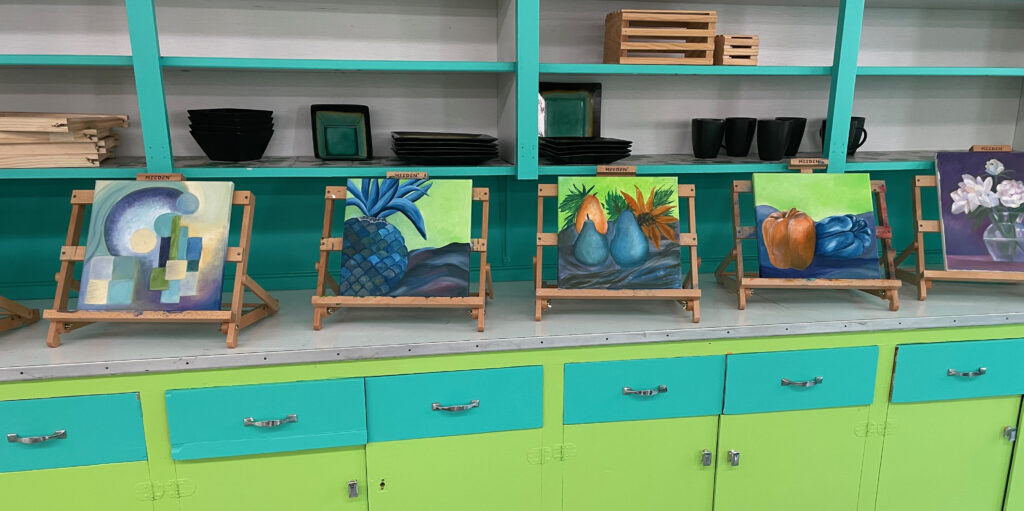 Beth is finding that for the typical Manos client, their interest is especially piqued by cultural art – for example, many enjoyed learning about techniques of the Australian Aboriginal people. They love learning about the history behind particular styles of art, and Beth also takes care to develop lesson plans drawn from clients' own cultures. 
Other popular topics among clients are learning about the lives of popular artists, and studying the elements of design.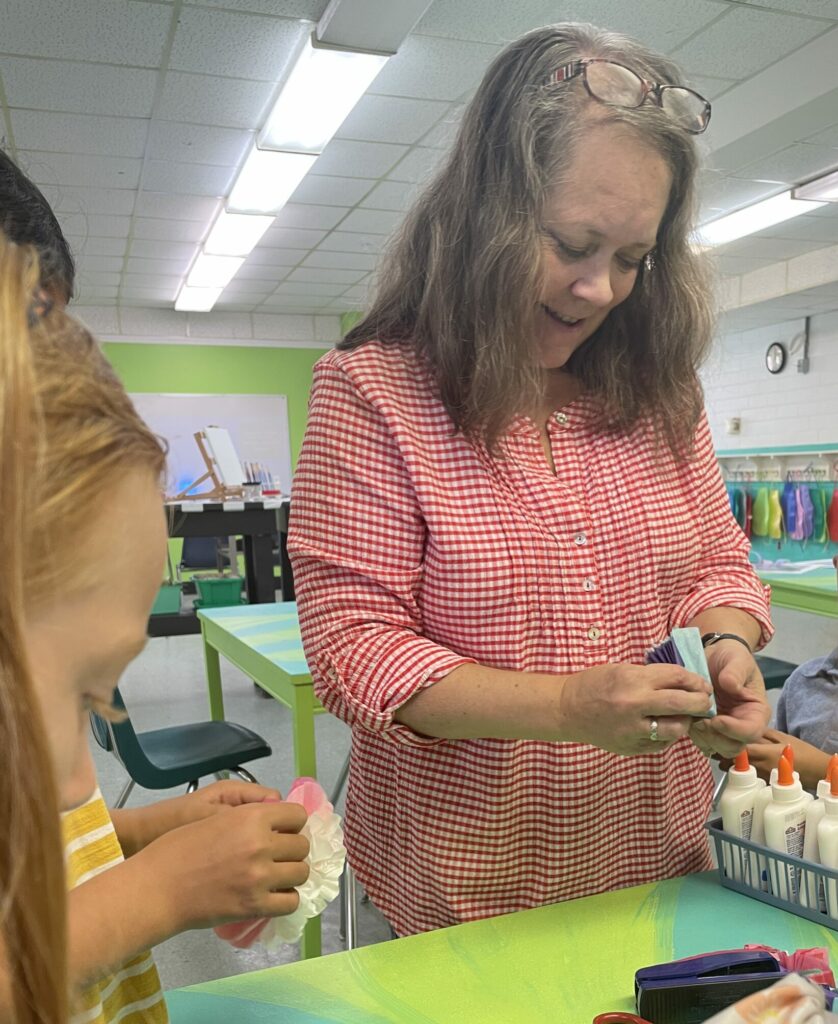 In September 2022, in correlation with the school year, Beth implemented a weekly program with Manos House clients that will run through June. One evening a week, for three hours, Beth leads the young men in art projects that complement the other types of therapy they receive.
"I have such an opportunity here, and I have such a wealth of knowledge," says Beth. "I just want to share it. Working with kids and making those connections is who I am as an artist and educator."
"They're wonderful," Beth says of her current Manos students. "I had no preconceived notion of what the boys were like, and I didn't need it. When they walk into the studio, they're simply my students."
Beth is especially heartened by the way the boys are keen on complimenting each other and their work, and says that type of camaraderie helps the students who don't think they're doing a good job. 
"When you set them up for success, they really surprise themselves," says Beth. "They love hearing peers say, "Wow!" about their own art." 
Beth explains that learning how to develop cooperative relationships is among the life skills that result from these interactions. The boys love to give each other feedback on their work, and draw inspiration from each other's art.
"You're just not trying" are words that Beth pledges never to use when working with students of any age. She intentionally creates a judgment-free, relaxed atmosphere that fosters mindfulness and the release of endorphins, helping the young men undergoing treatment with Manos House to learn how to cope with and relieve stress.
"At first, they're surprised when they create something they really like," says Beth. "They love feeling successful here."
Among the favorite disciplines so far with Manos House students are sculpture and weaving.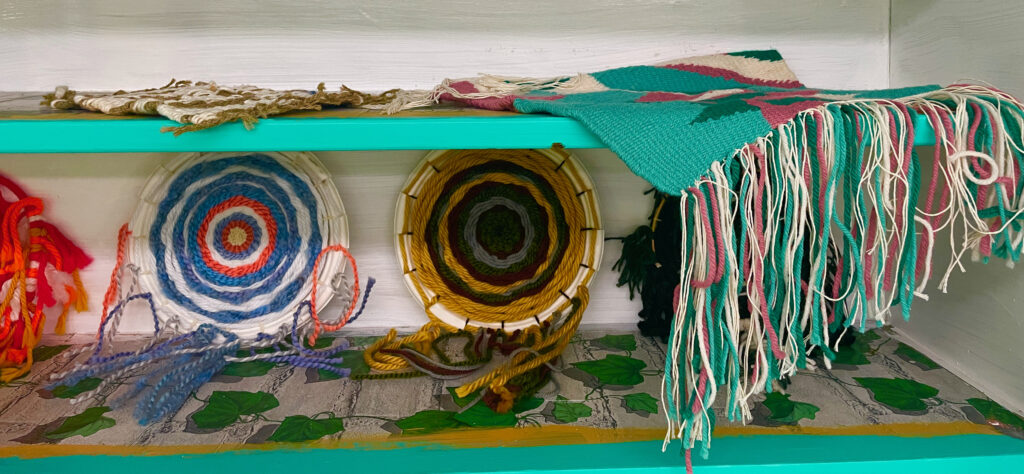 Recently, a client preparing to graduate from PGHS asked Beth for advice about how to explore a career in graphic design. That question inspired Beth to add graphic design into future programming for our clients.
Also coming up are lessons on oil painting and handmade pottery. 
While the Lancaster Art Room continues to evolve – murals and more shelving are in the works – there's one thing that will never change about the space, Beth says:
"Leave the judgment at the door. It has nothing to do with creating art."